fas fa-video
fas fa-play-circle
{{v.title}}
Watch Videos
Watch Videos
Turbo Machinery
SFI High-Temperature Air Heaters are used for research and discovery purposes in many Turbo Machinery applications. Heated air simulates the turbo fan engine conditions to test components, validate designs, and supports optimization and modeling of new efficient design concepts. TUTCO SureHeat SFI Heaters are often used within the energy sector. Large Turbo Fan Engines are currently used to generate electricity. The heated air is used to support combustion, provide greater efficiency, and reduce emissions. High-temperature air is used to reduce emissions in several catalytic processes. Electrically heated catalysts are commonly used to remove pollutants from internal combustion engines. New and improved catalyst processes are being developed to support phased approaches to zero carbon emissions.

Electric air heaters are being used in several alternative fuel processes to support zero carbon initiatives. From supporting energy storage applications to electrolysis processes to create hydrogen fuel, high temperature heating applications are critical components in the research and development. High temperatures and high-pressure heaters like TUTCO SureHeat Specialty Flanged Inline Heaters can quickly reach the necessary temperatures at higher pressures to support efficient Solid Oxide Electrolyzer Cell processes.
The advantage of Serpentine Technology™
Powered by high-watt density Serpentine™ Technology and scalable in power to 1MW and higher, TUTCO SureHeat Specialty Flanged Inline (SFI) Heaters are smaller than competitive solutions, quicker to reach operating temperatures, and accurate to +/- 2˚ F (+/- 1˚ C). Patented Over temperature Protection (OTP) control technology protects and accurately maintains temperature with customized PID based software engineered for each heater application. SFI products are custom engineered to meet the unique temperature, pressure, and mass flow rate requirements for the application. The diameter is determined by how large the electric air heating element needs to be to meet the heat transfer demand while maintaining low pressure drop. Wall thickness, flange specifications, and material of construction are all established by ASME or PED design principles for pressure vessels.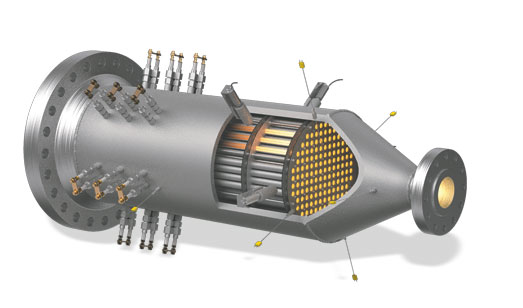 Industry Brief:
Temperatures up to 1750°F (955°C)
Pressure up to 1200 PSI (82 BAR), higher in custom designs.
Maintain +/- 2°F ( +/- 1°C)
Rapid temperature ramp, up to 80°F (40°C) per second
Standard models in 12 kW to 3 MW, higher in custom designs
Pressure vessels per ASME Section VIII Div. 1, U-Stamp certification available.
Pressure Equipment Directive (PED) certification for European customers
ANSI and DIN flange sizes available
Control cabinet provides temperature control, solid state power regulation, and relays to ensure safe operation
RoHS compliant
Over temperature protection system
Specialty Heaters Quote Request
Sizing & Selection
A simple formula for sizing the heater power (kilowatts) is given by: kW = SCFM x (Delta T)/3000, where SCFM is the mass flow rate in standard cubic feet per minute, and the Delta T is given in degrees Fahrenheit across the heater.
Calculate Wattage fa-calculator
Use our calculator and request a quote.
= {{calc_kw}}
kW
Request Quote
Related Content